Cerro Huemul (ca. 2550m).
1. Cara Norte
2. El tren que no puede parar
3. The End of Faith
4. Cara Oeste

Cerro Solo was christened by the Sociedad Cientifica Alemana 1916 expedition.
1 Cara Norte. In 1916, Alfred Kölliker, Fritz Kühn, Lutz Witte and partners reached the north summit, crossing Río Túnel to the east of Laguna Toro and following an obvious valley. The main summit is 30 meters higher and 200 meters further south, along a ridge with very crumbly rock (2- 3). It is not clear who did the first ascent. Speed ascent. Colin Haley - Andy Wyatt (US), 2016, 11:54 hours round-trip from El Chaltén.
2 El tren que no puede parar - 400 m 80˚ M5 5+. Tad McCrea and Jonathan Griffin climbed a route on the east face of Cerro Huemul in 2017. "El tren que no puede parar" was christened in memory of Iñaki Coussirat. They approached from Chalten, but it might be easier to approach from Bahia Túnel. The upper headwall is around 400 meters high and except for the last pitch and a half, offers surprisingly good rock. Getting to the upper glacier involves a bit of climbing, some roped.
3 The End of Faith - 1000 m, 3. Colin Haley - Alex Honnold (US), 1/2016. Follows the east ridge. It was climbed in a day, starting from Bahía Túnel and returning to El Chaltén.
4 Cara Oeste. Gastone Aldé - Casimiro Ferrari (IT), 1993. Further details are lacking.

Photos (click to enlarge)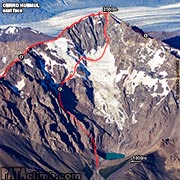 From the east.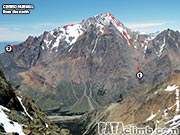 From the north.