Aguja de la Silla (ca. 2900m).


Description.
Although this impressive tower is commonly know as Aguja de la Silla, it in fact received a second name when it was christened by the 1952 French Fitz Roy expedition. Half jokingly they called it Pointe du Cinéaste (filmmaker's point) for its striking appearance and unique location, and because they could foresee that the expedition's film maker Georges Strouvé would have wished to sit on its very top to make the film of his life.
Silla has received far too little attention. Surprisingly it remained unclimbed until 1989, when Peter Luthi ticked yet another first ascent in the area. The west face is an imposing big-wall that still awaits a route up it.
Bibliography. Azéma M.A. (1954) La conquéte du Fitz Roy, Flammarion, Paris, p. 139.
Photos (click to enlarge)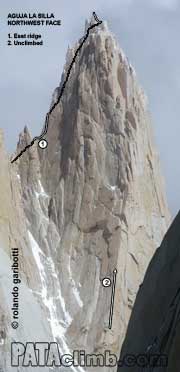 Aguja de la Silla - northwest face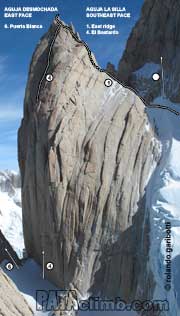 Aguja de la Silla - southeast face