Aguja Desmochada (ca. 2550m).


Description.

Desmochada: without a head or sawed off. Its name is certainly an accurate description of its appearance, a hundred meter long, fully horizontal knife-edged ridge of monolithic granite. Again in this case it was the members of the French 1952 Fitz Roy expedition that christened it. The original name was "Aiguille Sciée", but the spanish translation has stuck.


Climbing history.

Before the 1988 first ascent by Americans Jim Bridwell, Greg Dunmire and Jay Smith, this tower had been attempted only once by Italians Cesare and Vincenzo Ravaschietto in 1986.
Photos (click to enlarge)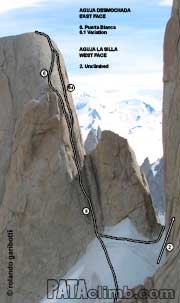 Aguja Desmochada - east face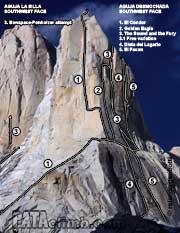 Aguja Desmochada - southwest face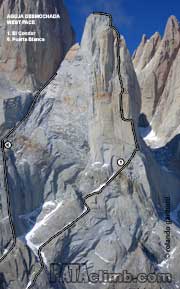 Aguja Desmochada - west face