Cerro Rincón (ca. 2460m).

Cerro Rincón was attempted by various Argentine expeditions in 1965, 1966 and 1970. Carlos Comesaña was part of the 1966 attempt but they were forced to give up when he fell into a crevasse and emerged with several broken ribs after a difficult four hour struggle to pull himself out. He recalls that episode as the most desperate struggle in his life and coming from the man that made the first ascent of Supercanaleta in alpine style, it is difficult to believe it would be an overstatement.
Finally, in February of 1971 Comesaña together with Ismael Palma made the first ascent of the peak via the northeast face and east ridge (D 400m 60° 3, one step to 90°). They approached by staying on the right side of the glacier, avoiding the center or left sides that are heavily crevassed. They crossed the bergschrund on the left end and climbed up and right toward the summit. The peak had a lot more ice then, including four snow mushrooms, the last one was the main summit. Fernando Bosch and Alfredo Fragueiro were also part of the expedition. In late 2018, Julian Casanova and Joaquin Paul (AR) skied this line, making a single 30 meter rappel.
Germans David Goettler and Michi Waerthl, together with Swiss Stephan Siegrist did the second ascent in November of 2000. They followed the first ascent route with some variations, climbing at times further right. From the summit they traversed north west to a small summit they called Cerro Amigos, although calling it Punta Amigos would be more accurate, as it is but a secondary summit. Comesaña and Palma had also climbed this secondary summit, but had decided not to name it as it seemed unimportant.
In November of 2013 Tomas Franchini and Francesco Salvaterra (IT) climbed a much discussed but frightening line onthe south face of Cerro Rincón, climbing an obvious dihedral right under a massive serac that overhangs some 50 meters (serious). Aptly they called their line Ruleta Trentina (650m M5 WI5).
Bibliography.
Anuario CAB 1967 p. 47; AAJ 1972 p. 180; Anuario CAB 1979 p.19.

Photos (click to enlarge)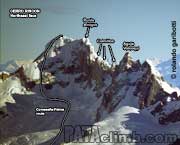 Cerro Rincón, Colmillos and Volonqui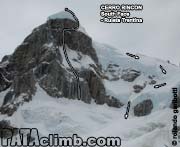 Cerro Rincón from the south