"Carsten's Traverse" - Gran

Gendarme to Cerro Pollone

In early 2015 Clayton Laramie, Cody Scarpella (US) and Carsten von Birckhahn (DE) climbed the upper part of The Perfekt Day on Gran Gendarme del Pollone, rappelled south, climbed both Cumbrecitas and the three summits of El Tridente, rappeling north to Tito Carrasco, climbing part way up before retreating due to rime covered rock. They had hoped to traverse from Gran Gendarme to Cerro Pollone. From the central summit of Tridente they rappelled south to a notch with a jammed block and to reach a crack that allow to climb out of it, they placed a bolt. See number 5 in the photos.
In early 2016, Carsten returned with Alex Luger and Hanno Schluge (AT), repeating the same traverse, climbing over Gran Gendarme, the two Cumbrecitas, the three summits of Tridente and Tito Carrasco to reach a point 100 meters below the summit of Cerro Pollone where the bad quality of the rock made them give up. A few months later Escama del Dragon was climbed, this would provide a suitable finish to anyone wanting to try to finish off this long traverse.
Carsten, a great lover of Patagonia who climbed many new routes in the area and contributed in countless ways, passed away in the summer of 2017 in a paragliding accident.
Photos (click to enlarge)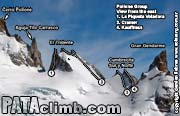 East view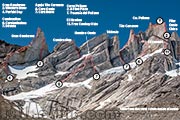 West view