Aguja Standhardt - North ridge
9. Festerville
400m 6c 90˚
Nathan Martin and Tim O'Neill (USA), February 2000.
Description. A phenomenal climb with very high quality climbing, except for one pitch... The route climbs the north ridge to reach a false summit, from where a 40-meter rappel to a col and one long pitch on mediocre rock are required to reach Exocet, four pitches from the summit. There is virtually no gear in place.
History. It was climbed alpine style, in 12 hours from the col to the top. It has seen many repeats. In 1998 Frenchman Christophe Beaudoin and Briton Andy Parkin attempted a line just to the left, but they gave up after two or three pitches (A3). They made two attempts, on both of which they were driven back by bad weather.
Approach. Niponino to Col Standhardt.
Descent. Via Exocet.
Bibliography.
Martin. Climbing magazine 195 p. 24.
Parkin. High magazine 192 p. 19.
Photos (click to enlarge)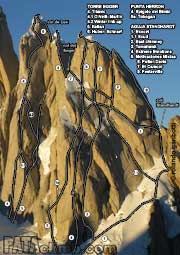 Torre Egger and Aguja Standhardt

southeast face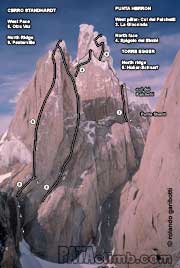 Punta Herron and Aguja Standhardt

north face