Aguja Val Biois - East face


2. Couloir Este


350m 90°

Patrick Gabarrou, Francois Marsigny and Fred Vimal (France), 9/1/1992, to the ridge.

Description. Climbs an deeply encased goullote in the center of the east face, that reaches the ridge north of the summit pyramid. It involves ten pitches of very fine climbing, six of which are quite steep. At times the goullote is only one meter wide.

History. The first ascent party retreated upon reaching the ridgeline, without continuing on to the summit.

Approach. Paso Superior to Glaciar Piedras Blancas Superior.

Descent. Descend via the same route. Rock anchors are set for 60-meter rappels.

Bibliography. Alp magazine 85 p. 23-24; High magazine 122 p. 11; AAJ 1993 p. 185-186; Vertical magazine 45 p. 84; Desnivel magazine 72 p. 88.
Photos (click to enlarge)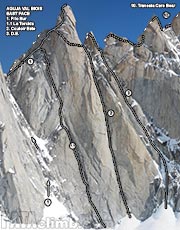 Aguja Val Biois east face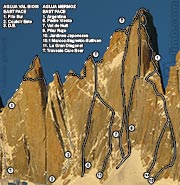 Aguja Val Biois east face