Cerro Piergiorgio - West face
3. Greenpeace
800m 50˚ 6b A0
Mario Mànica and Renzo Vettori (Italy), 22/11/1985.
Description. This line is reported to be very good. Climbs a line on the fat right side on the NW face.
History. After fixing their four climbing ropes they pushed on, completing the ascent in four days round trip. They bivied twice on the ascent, on top of pitch 9 and 14, and once on the descent, again on top of pitch 14, where two small ledges 10 meters apart from each other provided a suitable bivy site.
After the ascent Renzo Vettori wrote, "In the wall action frees the soul, and concentration keeps you from fear and mistakes. (...) But here the wind never stops, and never like on this day have I realized that action is the only relief in this kind of situation; action resolves magically almost every problem and with the mind concentrated and at work even the most dramatic situations get minimized. (...) At the top of the wall the horizon opens up. A deep breath, a handshake, some photos and some magical moments. I make an effort to focus on the significance of the moments lived up there, but this significance escapes me, even if I feel it should be something important".
They christened the pillar the route climbs "Pilastro dei Trentini" and they named the summit gendarme "Pilastro Fava", in honor of the well known patagonian explorer Cesarino Fava who was responsible for showing Vettori and Manica Piergiorgio's NW face. The route was named in honor of the well-known environmental group that in those years was living its golden age.
Marco Ballerini and Alessandro Valtolina had attempted this line in December of 1984. They retreated after climbing 200 meters. Also part of their expedition was Roberto Crotta.
One month after the first ascent, in December of 1985, Swiss Vincet Banderet and Paul Maillefer repeated the route in three days, making two bivys on the wall.
Approach. Glaciar Marconi.
Descent. Via the same route.
Bibliography. Alp magazine 10 p. 15; Alp magazine 12 p. 16; Rivista della Montagna 78 p. 32-37.
Photos (click to enlarge)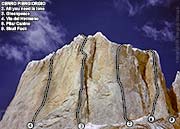 Cerro Piergiorgio - West face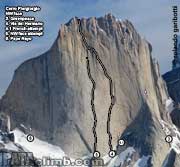 Cerro Piergiorgio - Northwest face