Cerro Torre - East face


10. Burke - Proctor Attempt

Philip Burke and Tom Proctor (UK), 22/11/1980 to 29/1/1981.
Description. The line attempted by Burke and Proctor climbs the big dihedral on the right of the east face and at its end turns on to the north face for seven more pitches. Burke and Proctor reached a highpoint less than 40 meters away from west ridge and the Ragni route. In the lower 500 meters they followed the same line climbed by Bragg, Donini and Wilson during their ascent of Torre Egger (see American route on Torre Egger for more details). They gained the dihedral itself by climbing into it from the left (6b/A2). The dihedral involved free-climbing several bomb bay off-width cracks and some difficult aid near the top (A3/4). This was followed by a straightforward aid traverse right (25 m) to the edge of the north face. This section of the north face is nearly vertical and is veneered in ice and sports mushroom features that defy gravity. A truly amazing finger traverse leads horizontally for two pitches across a blank wall (6b, 65 m) to reach a very steep ice choked corner system (the main groove system on this face) on which they climbed three very difficult mixed pitches (30m, 50m and 25m). This very difficult last section took over 12 hours to climb, and involved difficult aid and free climbing, on top of much unprotectable mixed climbing. The last pitch, which was aborted, stopped at a blank wall beneath the frost of the first snow mushroom of the west ridge. The next section appeared impossible to protect and although there was a potential traverse rightwards to hit the ridge they decided to retreat. Burke, one of the best English alpinists at the time said that the second to last pitch was the hardest he had ever lead in his life. Their highpoint is 30 meters below the ridge and about 30 meters left (east) of the 2005 route El Arca.
History. Burke and Proctor were part of a larger expedition including Brian Wyvill (got hit by a rock) and Geoff Birtles (had to go to work). They fixed ropes part way up and then spent six days climbing capsule style from the "super box" (portaledge) left at the base of the dihedral by Wyvill and Ben Campbell-Kelly on a prior attempt in 1978. In February and March 1978 by Wyvill and Campbell-Kelly spent 28 days on the wall attempting this line, climbing capsule style with a self designed rigid metal-nylon box, which was collapsible for hauling. They fixed the box at the base of the dihedral and manage to reach a high point 700 meters from the ground. They retreated due to lack of food and books. As mentioned earlier the box was left in place (it is still there) and was used two years later by Proctor and Burke. It was last used by climbers in the mid 90s, but now is too full of snow and destroyed to be usable.
Approach. Niponino to Noruegos to Glaciar Torre Superior.
Gear. Burke and Proctor had the equivalent of a Camalot 10.
Bibliography.
Burke: AAJ 1982 p. 193-194; Mountain magazine 78 p. 14; Mountain magazine 79 p. 40-43; Rivista della Montagna 46 p. 233.
Wyvill: Mountain magazine 61 p. 13; AAJ 1979 p. 256.
Photos (click to enlarge)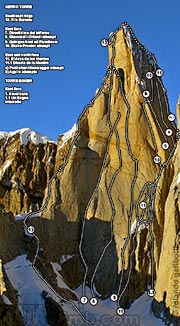 Cerro Torre east face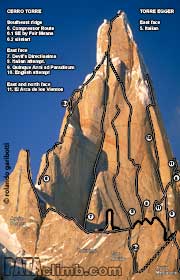 Cerro Torre southeast face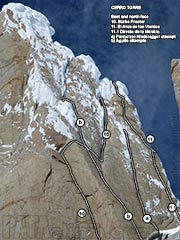 Cerro Torre north face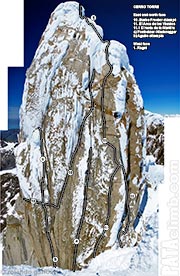 Cerro Torre north face