Cerro Torre, Torre Egger, Punta Herron and Aguja Standhardt
La Travesía del Oso Buda
1200m 90˚ M6 6a+ C1
Colin Haley and Marc-André Leclerc, January 2015.

Description. Climb the Via dei Ragni to the top of Cerro Torre, rap the upper three pitches and descend El Arca de los Vientos to the Egger-Torre col (the "Col de la Mentira" in Colin Haley's words). Climb part way up Venas Azules and traverse right to the American route to reach the summit of Torre Egger. Descend the Huber-Schnarf and climb the South face of Punta Herron. Descend Spigolo dei Bimbi to the Col de los Sueños and climb three pitches to join El Caracol which is followed to the summit of Standhardt from where you descend via Exocet.
This is the so called "reverse Torre Traverse", but it is vastly different in character, involving much more ice and mixed climbing. It involves a fair bit less vertical gain, but it is comparable or only slightly easier in difficulty. Time will tell which one of the two becomes more repeatead.

History. Haley and Leclerc crossed the Standhardt Col and went on to bivy just below the Col de Esperanza. The next day they started up the Via dei Ragni before sunrise reaching the summit by 11:50am. They rappelled to the top of El Arca de los Vientos and took a long rest, waiting for the temperature to go down. At around 6pm they started down the north face reaching the Egger-Torre col around 10pm, where they bivied. On day two they started up Venas Azules around 8:15am traversing rightwards after four pitches to join the American route, climbing a couple pitches of it before traversing further right to then come back to it. They reached the summit of Torre Egger at 9:45pm and bivied there. On day three they started at 7:45am, descending to the Col de Lux and climbing Punta Herron, reaching the summit at 9:45am. They then descended Spigolo dei Bimbi and started up the south face of Standhardt at 13:15pm, climbing three new pitches to join El Caracol, and from there six pitches led to Standhardt's summit, which they reached at 11:10pm. They rappelled Exocet reaching the glacier at 4am. Haley had attempted this traverse in 2012 with Jon Walsh, but they were thwarted by bad weather.
They named this traverse "La Traversía del Oso Buda". Oso for Bjørn-Eivind Årtun ("Bjørn" means bear in Norwegian, "Oso" means bear in Spanish), and Buda for Chad Kellogg, who was budist. This traverse was envisioned by Bjørn-Eivind and he attempted it with Chad in 2012. Bjørn-Eivind was killed by rockfall a couple weeks later in Norway, and Chad was killed by rockfall about one year later on Cerro Fitz Roy.

Approach. Col Standhardt.
Gear: They carried 12 ice-screws, one of each from C3s to 3, with doubles from .3 to 1. They also carried 15 pitons.
Descent. Via Exocet and Desarmada.
Photos (click to enlarge)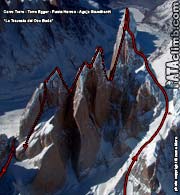 The Cerro Torre group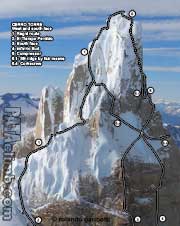 Cerro Torre from the southwest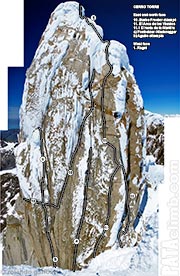 Cerro Torre from the north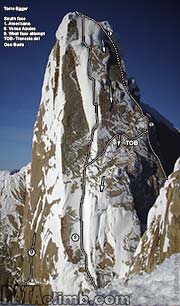 Torre Egger south face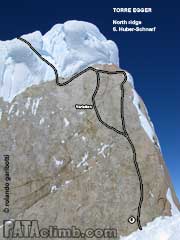 Torre Egger north face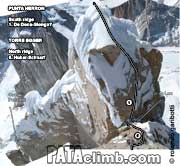 Punta Herron south face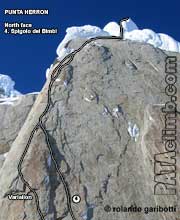 Punta Herron north face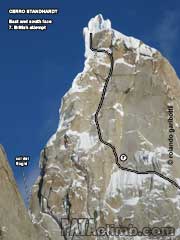 Aguja Standhardt

south face