Cerro Torre - East face


8. Giacomelli-Orlandi Attempt


Italians Fabio Giacomelli and Elio Orlandi made several attempts to climb a route between Quinque Anni ad Paradisum and the Devil's Directissima. They first attempted the route in the 2005-06 season and using fixed ropes, which they left in place from one season to the next, they pushed their high point higher and higher, making many attempts over the following three seasons (conquest alpinism at its best). In late 2009, after yet another month spent working on the route, having reached a point 350 meters from the summit and while descending separately, Giacomelli was swept by an avalanche near the base of the route. Orlandi realized that something had gone wrong when he returned to their snowcave and found it empty. He then spent several days looking for his friend, managing to eventually find his body, which was later recovered. He made another attempt in 2013 and yet another in 2015. It is unclear if he has removed his many fixed ropes and equipment.
The line and high point marked in the photos are approximate.
Photos (click to enlarge)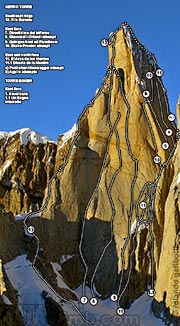 Cerro Torre east face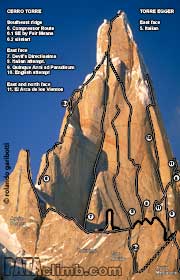 Cerro Torre southeast face