Aguja de la Silla - West face


5. The Vertical Current
300m 6b

Whit Magro, Nate Opp and Josh Wharton (USA), 2/2011.

Description. Climbs six new pitches on the right side of the south face to reach the Filo Esteroute along which it continues to the summit (450m altogether).
History.The first ascent was done as part of "The Wave Effect" link up which was completed alpine style over three days.
Approach. Over the summit of Desmochada, via the col Puerta Blanca, or via Couloir Poincenot.
Descent. Via the Filo Este and then across to La Brecha de los Italianos.
Photos (click to enlarge)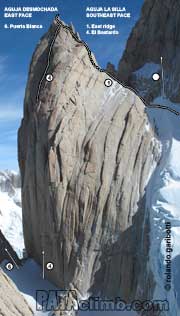 Aguja de la Silla southeast face