Aguja de la Silla - West face


6. Carril Rapido
250m 6a

Tomas Kovacs, Bence Lam and Aron Urbanics (HU), 1/2013.

Description. Climbs six new pitches on the right side of the south face to reach the Filo Este route along which it continues to the summit (450m altogether). Sections of the approach are threatened by a massive serac that has been known to cut loose from time to time (buyer beware).
History. The name, "express lane", refers to the route being a fast alternative approach to the base of the south face of Fitz Roy. That said practically it is more likely to mean that if the serac cuts loose while you are approaching you will get express passage to eternity.
Approach. Over the summit of Desmochada, via the col Puerta Blanca, or via Couloir Poincenot.
Gear: doubles to #3, TCUs, stoppers.
Descent. Why would you want to go down from such a beautiful summit?
Photos (click to enlarge)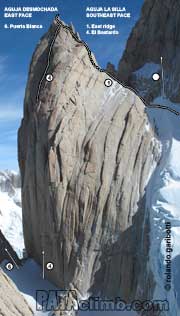 Aguja de la Silla southeast face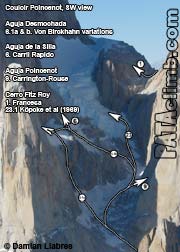 Couloir Poincenot SW view