Torre Egger – South face
2. Psycho Vertical
900m 6c A3 90°
Janez Jeglic, Silvo Karo and Francek Knez (Slovenia), 7/12/1986.
Description. A natural "directissima". The climb starts up a dangerous gully between Torre Egger and Cerro Torre, to the base of a very steep crack system, that leads to an obvious dihedral. The last two pitches might be in common with the Americana (950m altogether).
History. These three Slovenes were at the time one of the strongest alpine climbing partnerships around. They fixed ropes in the lower 550 meters, from there they climbed to the summit and back in a 22 hour push. According to Karo, this is the best of his and Jeglic's four major first ascents in this area.
After this ascent and regarding their use of fixed ropes Silvo Karo wrote: "We must admit that our triumph was only possible because of the network of fixed ropes. Taking into consideration the height of the faces and the rapid and unpredictable weather changes, it is almost impossible to climb in pure alpine style. The proof is that almost all routes in Patagonia have been first done with fixed ropes. Some day the routes may be climbed free, solo and in one day. This is a natural development, a kind of staircase where every new step follows the older ones".
Second ascent, alpine style. In early 2016, 29 years and a month after the first ascent, two parties found themselves in Noruegos competing for the second ascent. After a tense early start, Tomy Aguilo, Korra Pesce and Roli Striemitzer managed to get onto the route first. Over the next two days, and followed by Iñaki Coussirat and Carlitos Molina, they did the second ascent, the first in alpine style. Initially Iñaki and Carlitos climbed as an independent team, but eventually they joined in, jugging ropes fixed by Tomy, Korra and Roli for about a third of the way. They bivied twice, five on a two person ledge around pitch 15, and at the summit. On day three they descended to the Egger-Torre col and down the Americana on the east face of Cerro Torre.
Approach. Niponino to Noruegos to Glaciar Torre Superior.
Bibliography. Mountain magazine 119 p. 11; AAJ 1987 p. 209; AAJ 1988 p. 48-51; Rivista della Montagna 85 p. 19; Annales GHM 1987 p. 36; Alp magazine 25 p. 18; Desnivel magazine 30 p. 29.

Photos (click to enlarge)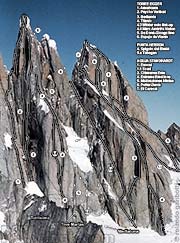 Torre Egger and Aguja Standhardt

south face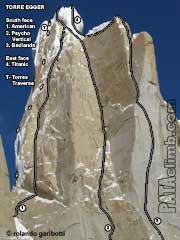 Torre Egger south face