Punta Herron - South face
1. Cara Sur
80m 75˚ (from the Col de Lux)
Bruno De Donà and Giuliano Giongo (Italy), claim to have climbed this route in March of 1980. Thomas Huber, Andi Schnarf and Rok Zalokar in 2005.
Description. From the col de Lux (Egger-Herron) climb two pitches to the top, mixed and mushroom.
History. De Doná and Giongo's claimed to have climbed this route while descending in an epic storm after a supposed ascent of Torre Egger. See De Dona-Giongo line on Torre Egger for more details.
The first confirmed ascent of this route was done by German Thomas Huber, Swiss Andi Schnarf and Slovene Rok Zalokar, who in 2005 traversed Standhardt's east face ramp, rappeled into Tobogan, climbed three pitches to the col dei Sogni, climbed Spigolo dei Bimbi, descended to col de Lux, attempted Egger but were driven back by dangerously warm weather and retreated by reclimbing to the top of Herron to rappel Spigolo dei Bimbi.

Approach. Helicopter to the Col de Lux...
Descent. Back down the way you came, whatever that might have been.
Bibliography. CAI-Rivista Mensile 1981/5-6 p. 198-205; Scandere 80 p. 22-37; AAJ 1981 p. 239; AAJ 1981 p. 239; CAI-Rivista Mensile 1981/5-6 p. 198-205.
Photos (click to enlarge)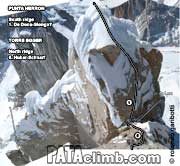 Punta Herron south face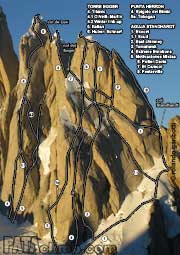 Torre Egger and Aguja Standhardt

southeast face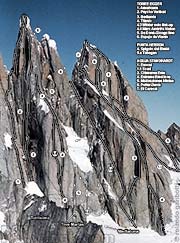 Torre Egger and Aguja Standhardt

south face