Punta Herron –East face
5. Tobogan
600m AI4 M6 (6a A1 70˚)
Rolando Garibotti and Silvo Karo (SI), 1999, to the Col dei Sogni. Peter Ortner and Toni Ponholzer (AT), 2015, to the summit.
Description. Climbs an obvious line leading to the col dei Sogni. The climb is not as easy as it looks and is very conditions dependent. The first ascent was done in fairly dry conditions and the first ascensionists found several sections that required aid and thought the climbing was not very good: alpine groveling. In 2012 Colin Haley and Jon Walsh repeated it when it was plastered with ice and reported back a very enjoyable climb and managed to climb it free (AI4 M6).
History. It was first attempted by Spaniard Pepe Chaverri and Italian Ermanno Salvaterra in 1994, but they retreat after 300 meters when Pepe was injured by falling rock. Garibotti and Karo climbed to the col in one day and retreated after a "too cold" sleeping-bag-less bivy.
In early 2015 Peter Ortner and Toni Ponholzer linked Tobogán and Spigolo dei Bimbi on Punta Herron with the Huber-Schnarf on Torre Egger. On the first day they climbed to the top of Herron, on the second to Torre Egger and descended Titanic. This was the first integral ascent of Tobogán.
The name refers to the Spigolo dei Bimbi. Below the "arete of the childen" a "tobogan" (slide in spanish).
Approach. Niponino.
Descent. From the col there are three options: down the route, safe but it involves much traversing in the middle; down the route at first then straight to the hanging glacier and the top of the serac, then either across it to rap the Italian route on Egger, or down skiers left, to rap right under the serac back to the glacier (only if you are sure to still have one of your seven lives to spare...). The last is the most dangerous but fastest option. Far all the options you will need a few pitons because you are likely not to find one or more of the rap stations.
Bibliography.
Chaverri et al. Desnivel magazine 93 p. 92; High magazine 142 p. 39; AAJ 1994 p. 181.
Photos (click to enlarge)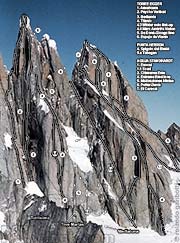 Torre Egger and Aguja Standhardt

south face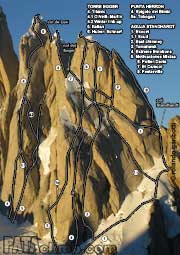 Torre Egger and Aguja Standhardt

southeast face