Cerro El Mocho - North face
14. The Approach Team line
450m 6c A2+
Martin Marovski - Viktor Varoshkin (BG), 1/2016.
Description. The hardest pitches are the first ones, full of mud and moss, they involve slow aid on flared cracks, protected with Peckers or cams in two lobes. The crack system that follows is superb, as is the upper part. The line climbs 13 pitches, the 8th in common with Grey Yellow Arrow and 13th in common with Little Big Wall. The pitches are as follows: 1- 6a, 60м; 2- 6c /А2/, 30м; 3- 6c, A1+, 15м; 4- A2+, 50м; 5- A2, 20м; 6- 6c, 60м; 7- 6b, 55м; 8- 6b+, 45м; 9- A1+, 6b?, 57м; 10- 4+, 30м; 11- 6a+, 45м; 12- 6b, 45м; 13- 5+, 35м. All the belays except one are bolted, and in between pitches they left four bolts and four pitons, all in the first four pitches. They reckon the line could be free-climbed.
History. The route was climbed over five days scattered over a month, using 280 meters of fixed rope. The name of the routes refers to their first month in Patagonia, which offered terrible weather and they spent mostly hiking.
Approach. Niponino.

Gear. doubles to #4, doubles TCUs, Stoppers, 5-6 peckers.

Descent. Rappel the route.
Photos (click to enlarge)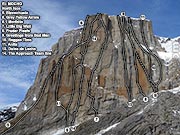 El Mocho - north face

El Mocho - north face