Aguja Standhardt – East face
4. Extreme Emotions
450m 6c A1 M6+ 85˚
Stephen Koch (USA) and Marko Prezelj (Slovenia), 1/2/2006.
Description. The route starts up the rock buttress just left of Tomahawk, following steep cracks. After 8 pitches rappel 15 meters into a deep chimney, which involves much mixed climbing. Once on the snow ramps climb to the base of the Exocet chimney, and follow it to the summit.

History. The route was climbed over two days, with a short bivy somewhere in the snow ramps.
Approach. Niponino then toward the Col Standhardt.
Descent. Via Exocet.
Photos (click to enlarge)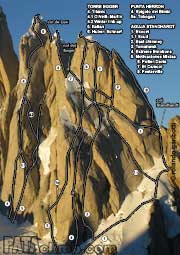 Torre Egger and Aguja Standhardt

southeast face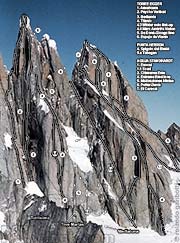 Torre Egger and Aguja Standhardt

south face