Aguja Standhardt – East face
6. Potter-Davis
200m 6b C2 85°
Steph Davis and Dean Potter (USA), 2006.

Description. Climbs a line in the headwall left of the Exocet chimney. Potter and Davis climbed 6 new pitches, many of which required aid. Their line apparently starts right of the Motivaciones Mixtas line then, half way up the headwall, crosses it to finish to its left.
History. Because Chaverri and Plaza rappeled further north, leaving no gear on their "Motivaciones Mixtas" attempt, it is possible that Davis and Potter climbed the same line.
Approach. Niponino to Col Standhardt.
Descent. Down the route at first, then via Exocet.
Photos (click to enlarge)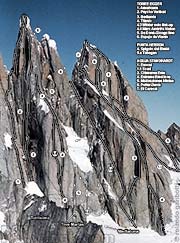 Torre Egger and Aguja Standhardt

south face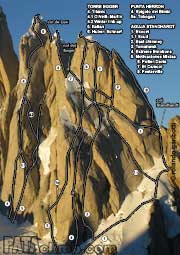 Torre Egger and Aguja Standhardt

southeast face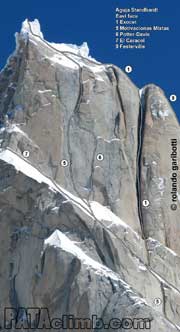 Aguja Standhardt east face