Cerro Torre - Northwest face


12. Cara Noroeste




In March of 2012 Argentines Iñaki Cousirrat and Carlos Molina climbed a line that follows an obvious spur that rises from the bottom of the NW face and leads to a series of ledges just west of the Egger-Torre col. Cousirrat and Molina joined El Arca de los Vientos along which they continued for three pitches before retreating, half a pitch below the obvious pendulum, two pitches before reaching the north ridge. Carlos and Iñaki approached the base of the wall via the Standhardt col, making a first bivy on the fifth pitch and a second one on the fourteenth pitch. They rappelled and returned to Chalten via Paso Marconi.
In 1994, Italians Maurizio Giarolli, Elio Orlandi and Odoardo Ravizza attempted this line, reaching the north ridge from where they retreated, 350 meters below the summit (800m 6a A1 AI4 to that point). Arguing that they had joined the line that Cesare Maestri claims to have climbed with Toni Egger in 1959, Giarolli, Orlandi and Ravizza claimed to have climbed a new route. Considering that no trace of passage from Maestri and Egger has been found above the triangular snowfield, merely 300 meters above the glacier, and a good 600 meters below where Giarolli, Orlandi and Ravizza claim to have joined it, their claim of a new route was a stretch to say the least. They named their supposed new "route" Cristalli nell Vento. Their attempt was done climbing capsule style over 8 days (27/10/1994 to 3/11/1994). Giarolli and Orlandi had made an attempt a year earlier, in 1993, but were forced to retreat after four pitches when Giarolli was hit by falling ice and suffered a broken scapula. Giarolli, Orlandi and Ravizza dedicated their 1994 attempt to the memory of Fabio Stedile, a climber from Trento, Italy, who tragically died during the same good weather window while attempting to climb the SE ridge of CT.
The upper portion of Giarolli, Orlandi and Ravizza's attempted line was first attempted by Austrians Tommy Bonapace, Toni Ponholzer and Gerold Dünser who, in 1993 and climbing via the east face, traversed the Egger-Torre col onto the NW face. This was the line completed in 2005 by Alessandro Beltrami, Rolando Garibotti and Ermanno Salvaterra as El Arca de los Vientos.
Technically, considering that Cousirrat and Molina joined an existing route their ascent should be called the first ascent of this line. Unfortunately the earlier claim of a new route muddies things up, so likely it is best to leave the first ascent claim to whoever will complete the line to the summit.
In April of 1989, left of the Italian attempt, Americans Michael Bearzi and Eric Winkelman attempted a right leaning ramp/dihedral system that slashes across the base of Torre Egger's west face. They had hoped to find climbable ice and rime, but lack of either hindered their progress and they gave up after 300 meters.
Approach. Paso Marconi to Circo de los Altares or via Niponino over the Col Standhardt.
Bibliography.
Giarolli et al: CAI-Rivista Mensile 1995/2 p. 63-64; AAJ 1995 p.212-213; Desnivel magazine 102 p. 91; Alp magazine 126 p. 28-29; High magazine 152 p. 13; Annales GHM 1994-95 p. 53; Bolletino SAT 1995/1 p. 43-44; Lo Scarpone 1995/3 p. 12; Rivista della Montagna 174 p. 8, p. 10.
Photos (click to enlarge)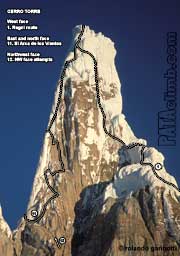 Cerro Torre northwest face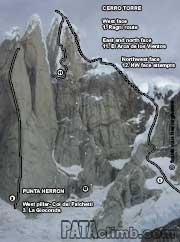 Cerro Torre northwest face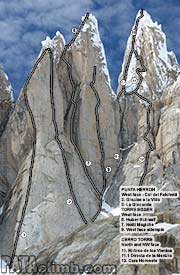 Cerro Torre and Punta Herron

west face