Mini Torre, Cerro Doblado, Cerro Ñato, Adela Sur, Central and Norte to Cerro Torre.


Cordón Adela to Torre Traverse

Max O'Dell, Juan and Agustin Raselli (Argentina), 1/2012.
Description. Starting from Laguna Toro the first ascensionists climbed "Mini Torre", a previously unclimbed summit just west of Punta Luca, which they reached via the Tunel Inferior glacier and a 400m ice and snow ramp (ice to 60°). The final summit pyramid of "Mini Torre" is quite difficult, involving 90° ice to steep rime climbing. From this summit the first ascensionists traversed north, crossing the west face of Punta Luca and Cerro Grande to climb Cerro Doblado, Cerro Nato, Cerro Adela Sur, Central and Norte. From Adela Norte they descended to the Col de la Esperanza and climbed the Ragni route, descending the same route to return via the Icecap and Paso del Viento.
History. This fantastic voyage took seven days round trip Chalten-Chalten, involving bivies in Laguna Toro, part way up "Mini Torre", at the col between Nato and Adela Sur, two bivies at the base of the Elmo (on the way up and down) and a final one in Laguna de los Esquies. An impressive "grand voyage" most certainly.
The middle section of this traverse, from Adela Sur to Col de la Esperanza had been done in 1988 by Argentines Eduardo Brenner and Silvia Fitzpatrick. For further details see Northward Adela Traverse. Other sections of this traverse were covered climbing from north to south by Walter Bonatti and Carlo Mauri, see Adela Traverse.
In early 2015 Luka Lindic, Luka Krajnc and Tadej Krišelj (SI) followed Brenner and Fitzpatrick's steps and repeated a portion of this traverse to climb the Via dei Ragni. From Niponino they climbed to Col Trento, the col between Adela Sur and Cerro Nato, heading north, tagging Adela Sur, Central and Norte to descend to the Col de la Esperanza. They started from Niponino in the afternoon, sleeping below Col Trento, then sleeping a second night at the base of the Elmo, to then climb to the summit and descend the Southeast Ridge. A photo of the line here.
Approach. Glaciar Túnel.
Descent. Via the Ragni route.
Photos (click to enlarge)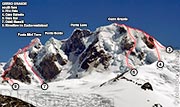 Cordon Adela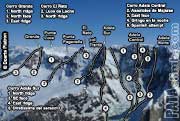 Cordon Adela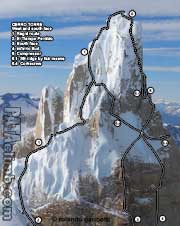 Cerro Torre southwest face