Aguja Poincenot - North face


7. 40º Gruppo Ragni

550m 6a+ C2
Paolo Vitali, Mario Panzeri, Marco Della Santa and Daniele Bosisio (Italy), 8/12/1986. To the top of the W buttress, 20 meters below the summit.
Description. Follows a series of obvious crack systems, most of which can be climbed free except for a few sections. The route starts 100 meters up and left from the start of the Carrington-Rouse. The rock is very good throughout, but there are some specially striking features in the upper part, including a fantastic 40 meter crack that slashes across an otherwise feature less headwall (6c).
History. They completed the route in pure alpine style over two days, climbing 14 pitches on their first day to reach the small saddle behind the prominent pinnacle where they found a small bivy ledge barely big enough to sit. From the top of the buttress they did not continue on to the summit, which is higher by only 20 meters, but getting to it involves difficult route finding and alpine trickery. They placed five bolts, only one of which was for protection. They descended the route, making a second bivouac at the base. The following morning, while making a traverse Vitali was blown off and fell 100 meters down the Poincenot couloir, miraculously stopping but suffering two badly sprained ankles.

The original idea to attempt this line was from Marco della Santa and it was named to commemorate the 40th anniversary of the climbing group they belong to, the famous Ragni.
Approach. Niponino to Couloir Poincenot.
Descent. Via the same route.
Bibliography. Alp Magazine 25 p. 19; Benini A. (1996) Ragni di Lecco - 50 anni sulle montagne dell mondo, Vivalda, Torino (p. 189 and 192).
Photos (click to enlarge)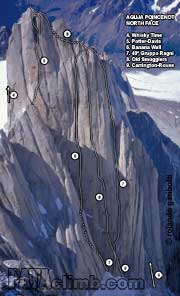 Aguja Poincenot north face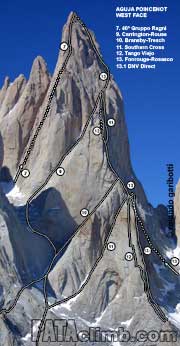 Aguja Poincenot west face
Crystal Davis-Robbins and Jonathan Schaffer (US), 1/2015
Description. Pitches two, three and four, following a steep crack system and aare all 7a, pitch five is 6c+. After seven pitches it joins the 40˚ Gruppo Ragni route, which is follows for another seven pitches to the ridge (550m altogether), where some tricky terrain including a rappel through a cave lead to the Whillans-Cochrane and the summit.
History. As far as the route name and from Wikipedia: John Henry is an African-American folk hero and tall tale. He is said to have worked as a "steel-driving man"—a man tasked with hammering a steel drill into rock to make holes for explosives to blast the rock away. According to legend, John Henry's prowess as a steel-driver was measured in a race against a steam powered hammer, which he won, only to die in victory with his hammer in his hand and heart giving out from stress. The story of John Henry is told in a classic folk song, which exists in many versions, and has been the subject of numerous stories, plays, books and novels.

Pro. ?
Descent. Rappel the Banana Wall route back to the base.