Aguja Poincenot - North face


21. Invisible Line


400m 7a A1
Michal Brunner and Jindřich Hudeček (CZ), 02/02/2015.
Description. Climbs a massive crack and chimney system that runs parallel and to the left of the Potter-Davis. There are many hard chimney sections in this climb, some particularly runout. Note that Czech climbers are particularly good at this sort of stuff, so beware. In between pitches they placed just a single bolt, in one of the runout chimney sections. They placed two bolts at many of the belays and suggest this might be the fastest and most convenient descent line from the summit. In all they climbed nine pitches.
History. They had made an attempt early in 2014 when bad weather stopped them just below the summit.
Approach. Paso Superior and Glaciar Piedras Blancas Superior.
Gear. 2ea to 3, 1ea to 6, stoppers
Descent. Via the same route.
Photos (click to enlarge)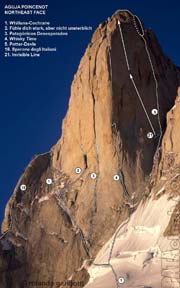 Aguja Poincenot northeast face

Aguja Poincenot northeast face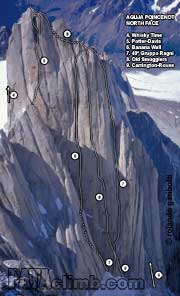 Aguja Poincenot northeast face