Aguja Poincenot - Southwest face


15. Judgment Day


550m 7a+ (6c C1)
Jay Smith and Steve Gerberding (USA), 25-28/1/1992.
Description. A fantastic route. Climbs steep, clean cracks to join Historia Interminable for three pitches before reaching the easy upper tier of Poincenot's SW face, where it joins the Fonrouge-Rosasco and Whillans-Cochrane routes (900m altogether). It follows a crack system 150 meters right of the Fonrouge-Rosasco, leading to a visible tower. The rock is very good and the climbing can be done clean (no pitons and no bolts) and mostly free, with the exception of a short tension traverse to change cracks in the vertical middle headwall and one 10 meter iced up section.
History. The first ascent party fixed 150 meters of rope, and then climbed alpine style over 4 days, two of which were spent inside their bivi sacks at the top of pitch nine, waiting out a passing storm. As they had hoped to complete their route in just two days they only had a very limited amount of food and therefore spent two days eating 3 peanuts a day. When the weather finally improved, it was Gerberding who took the lead feeling a bit weary after several days with little food, and much to his and Smith's surprise he passed out while climbing, taking a ten meter fall as a result.
In 1/2013 Jumbo Jokoyama and Ryo Masumoto (JP) did the first free ascent They left Niponino late climbing to a ledge at the top of the 8th pitch. The next day they climbed to the summit and descended. Jumbo describes the lower crux (originally graded 6c/A0) as one of the best pitches he has ever climbed in Patagonia and estimates it is 7a+, possibly 7b. A higher crux (6c/C1) went at 7a. They describe the quality of Judgment Day as "awesome", specially pitches 6, 7, 9, 10, and 13.
Approach. Polacos.
Descent. Descend via the same route.
Bibliography. AAJ 92 p. 164-172; Desnivel magazine 73 p. 79.
Photos (click to enlarge)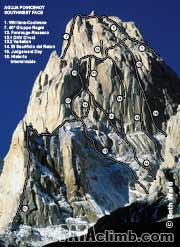 Aguja Poincenot southwest face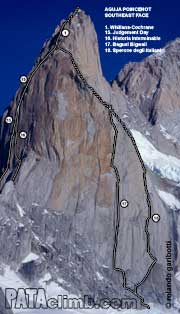 Aguja Poincenot southeast face