Aguja Poincenot - Southeast face


18. Sperone degli Italiani


900m 6a+ A3
Adriano Carnati, Massimo Colombo, and Alessio Bortoli (Italy), 26/12/1986, to 100 meters from the summit, after joining the Whillans route. Silvo Karo and Andrej Grmovšek (Slovenia) to the summit, 7-8/2/2005.
Description. After the first few easy pitches comes the first aid pitch, up a 400-meter long vertical wall with very few features. Half of the following 10 pitches are up thin cracks, flakes and slabs which require fairly time consuming aid climbing, with much nailing. The other half, involve awesome free climbing (to 6c) on huge flakes and in corners. Above that point the route gets easier, climbing a further 400 meters of mostly free climbing terrain (to 6c) to reach the Whillans-Cochrane route (26 pitches from the ground to that point). Due to the many blank sections the first ascentionists were forced to place close to 40 bolts.
History. The first ascentionists were part of a big expedition that also included Corrado Brustia, Graziano Bianchi (who was injured by falling ice and therefore not able to join the rest of the team on the final attempt), Mario Vismara, Aristide Galbusera (who was forced to return home) and Bruno Vagletti. They climbed 26 pitches to where their route joins the Whillans, along which they continued to within 100 meters from the summit. Here they bivied, and the following morning bad weather forced them to retreat. To complete the route they used fixed ropes which were placed over two consecutive years. The same team had tried the route during the 1985-86 season, when they had managed to climb about 600 meters. In early December Aristide Galbusera had to return home because his wife had become ill. She died a few days after he returned home. The first ascentionists therefore decided to dedicate their ascent to her, to Francesca Galbusera.
The second ascent and first integral ascent (to the summit, 1200m altogether) was done by Slovenes Silvo Karo and Andrej Grmovšek in 2005, climbing the route in 48 hours round trip. Silvo and Andre had thought the route would be "easy", so they did not take pitons or aiders. Luckily the Italians had left both pitons and aiders at the end of the first easy pitches, so the Slovenes were able to take them. They bivied after 14 pitches aprox, and continued on to the summit the next day, reaching the summit at 3PM, and rappelling through the night down the route.
Approach. Laguna Sucia and Glaciar Río Blanco Superior.
Descent. Via the same route.
Bibliography. Lo Scarpone 1987/7 p. 20-21; AAJ 1987 p. 212-215; Alp 25 p. 19.
Photos (click to enlarge)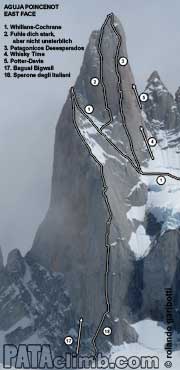 Aguja Poincenot east face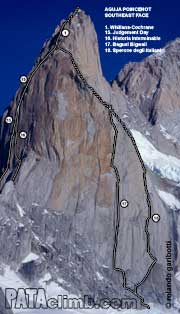 Aguja Poincenot southeast face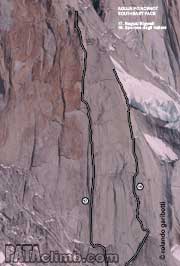 Aguja Poincenot southeast face