Fitz Roy - South face

23. Californiana
400m 40˚ 6a+
Yvon Chouinard, Richard Dorworth, Lito Tejada Flores and Doug Tompkins (USA) and Chris Jones (UK), 20/12/1968.

- 23.1 Köpcke et al, alternate approach
- Alternate approach, "California Roulette"
- 23.2 Variante Suiza
- Variante Chilota
- "Californiana Sit Start"

Description. The route starts from the saddle between Fitz Roy and Aguja de la Silla, commonly known as Col de la Silla or Collado de los Americanos, which is reached via a snow traverse from La Brecha (55°). Beware that late in the season this traverse can be black ice. From the saddle it follows the SSW buttress for 10 pitches until it joins the Supercanaleta along which it climbs a further six pitches, weaving through a series of gendarmes before reaching the summit slopes. There are numerous possible variations, all about the same difficulty. A competent party should be able to climb it in one day from La Brecha or with an early start in one day from Paso Superior. There are many ledges suitable for bivouacking throughout the route. Since most parties now choose the more direct Franco-Argentina, this once popular climb has seen very few ascents in recent years. It is a worthy line, with good rock (far better than the Franco), fun free climbing, in a very dramatic position (it "hangs" above the Torre valley). Joins the Supercanaleta in the upper part, 650m altogether.
History.The first ascensionists fixed ropes to La Brecha where in a well-outfitted snow cave they spent over 35 days waiting for a break in the weather. When the good weather came, they raced up the route in a single 23-hour round trip push. They had started the trip in California, driving south in a van, stopping in a number of places across South America to surf and ski. The movie of the trip that Lito produced has become a "cult movie" of sorts. This route is often called the "ruta Americana", but it should be noted that not all the members of the expedition were in fact from the USA. Perhaps the name "Californiana" is more accurate, in spite of the fact that not all were California residents. There are references calling the route the "Funhog route" too.

Solo ascents. Frenchman Yves Astier claimed to have climbed this route solo in 1985, in 12 hours, saying he turned back at the end of the difficulties due to bad weather. However, inconsistencies on his reporting about this ascent have cast serious doubts about the validity of his claims. Thomas Bubendorfer (Austria) made the first confirmed solo ascent to the summit the 16/1/1986, in 7 1/2 hours from the col (23hs round trip from basecamp). The second solo ascent was by Miroslaw Smid (Czech Republic), in February of 1990. The third solo was by Yasushi Yamanoi, see below "winter ascents". The fourth solo ascent was done by Dean Potter (US) who approached the base of the route via the Poincenot couloir (see approach section below), a link-up he dubbed "Californian Roulette." It took Potter a mere 9:50hs from Polacos camp to the summit!

Winter Ascent and Solo Ascent. who else but Yasushi Yamanoi (JP), the 28/7/1990 after his two partners deserted him. It took him three days to climb the route, using 100 meters of fixed rope in the couloir leading to La Brecha. Close to the summit he spent one sleepless night hanging from his axes in very strong winds. He had made one unsuccessful solo attempt the previous winter.
Oldest ascent. In early 2019, vasque climber Martin Zabaleta climbed the roiute age 69. His' is the oldest known ascent of the peak.
Variations.
In February of 2014 Matteo Della Bordella, Luca Schiera (IT) and Silvan Schupbach (CH) reached the base of the Californiana via the couloir between Aguja de la Silla and the southwest face of Fitz Roy. They climbed up the Filo del Hombre Sentado to then follow the "approach" (200/300m 5+) of Destreza Criolla, continuing up the couloir to the Col de los Americanos. To reach the col they climbed three pitches on the wall to the right (to 6a). This same approach to the col had been climbed by Crystal Davis-Robbins (US) and Nico Gutierrez (CL) in 2009 during a failed attempt on the line that would later become Destreza Criolla. Della Bordella, Schiera and Schupbach went on to climb the Filo Este of Aguja de la Silla, linking it the next day to the Californiana. They called this link-up "Californiana Sit-Start". It covers close to 2000 meters of vertical gain with difficulties to 6a+ C1 and M4/5. In 2002 Dean Potter soloed a different "sit start" to the Californiana, see "Solo Ascents" section above.
Variante Suiza. In November of 2012, Andreas Abegglen, Lucas Desax, Lorenz Frutiger and Martin Hostettler (CH) climbed a six pitch variation up and right from the original route. The crux pitch is 6b+.
Variante Chilota. Armando Montero and Sebastián Rojas (CL) climbed straight onto the Silla Americana (100m, ice, mixed) and then tackled a line to the right of the Variante Suiza, climbing four new pitches (6b A0) of new terrain, joining briefly the Variante Suiza to then traverse to the Californiana along which they continued to the summit.
Approach. Paso Superior to Brecha de los Italianos to La Silla (300m 75˚ -to 90˚- 3), then across to La Brecha de los Americanos and La Silla Americana.
It is also possible to climb the rock spur just left of the couloir leading to La Brecha de los Italianos (Roberta Nuñez –Brazil- and Jose Pereyra –Venezuela- 10 pitches to 6a).
Köpcke et al, alternate approach. It is also possible to approach La Silla from the Torre valley via Couloir Poincenot. Couloir Poincenot was first climbed by Argentines Edgard Köpcke, Avo Naccachian and Guillermo Vieiro in 1969, reaching the junction with the Californian route. This couloir has not been repeated often because it sports a dangerous serac part way up (this has to be bypassed by climbing an 30 meter ice smear just to its right). Jorge Aikes, Marcos Bianchi and Eduardo Vivaldi were also part of the 1969 expedition, reaching the base of the serac where they bivied. In the early 1970s Marcos Bianchi and Pippo Frasson (Argentina) lost their lives when, having climbed past the serac, they slipped and fell to their deaths. Cesarino Fava lead and attempt to recover their bodies but it was unsuccesful. Argentine Hugo Bella lost his life in that couloir a few years later, while climbing together with Jorge Aikes. It is unclear what happened. A well respected Argentine climber and early resident of Chalten, Horacio Bresba, rests in peace there as well. He died from hipotermia after a horrowing descend from an attempt to the Franco-Argentina.
Descent. Francesa.
Bibliography.
First ascent: AAJ 1969 p. 263-269; Alpine Journal 1969 p.130-132, p.274-275; Summit 1969/8 p.2-7; Mountain 2 p.4; Mountain 3 p.9-15; Anuario CAB 1979 p.67-69; Chouinard Y. (1978) Climbing Ice, Sierra Club Books (p.170-171).
Bubendorfer: Mountain 114 p. 12; Bubendorfer T. (1987) Solo, M. Lechner Verlag, Wien; Bubendorfer T. (1986) Mount Fitz Roy - Die Qualität des nächsten Schrittes, Verlag Orac, Wien.
Astier: AAJ 1987 p.212; Montagnes Magazine 80 p.8.
Yamanoi: Iwa To Yuki 143 p. 8-15; GHM 1990 p.53; AAJ 1991 p.198.
Photos (click to enlarge)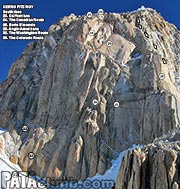 Fitz Roy south face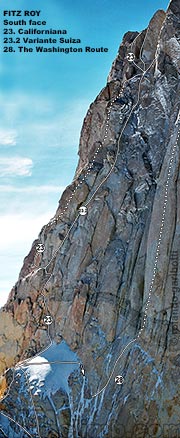 Fitz Roy south face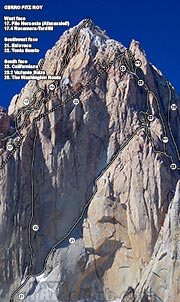 Fitz Roy southwest face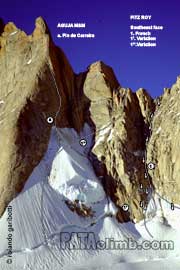 Brecha east face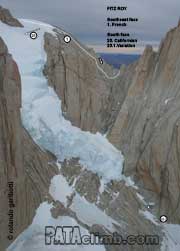 Brecha west face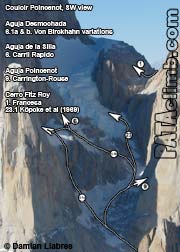 Couloir Poincenot SW view